The title sort of says it all...
I didn't start this week with the intention of doing or expecting any of these things but as I reflect on them I can't help but the feel excited. This is how my week started.
Sunday – First time driving a Volkswagen Golf & dinner at UVA. Yep, the memory of zooming through the rain in that midnight blue Golf was sweetened only by the taste of an incredible wine flight of bold reds that I didn't know existed at Italian restaurant UVA. Check out the labels below.
Monday - My first sale on eBay. I got a spike of joy from the notification telling me that someone was going to give me money for something I no longer wanted, and then the feeling of immediately wanting to make it happen again. Priceless.
Tuesday - My first personal training consultation (which I'm still aching from.) Only later did I realize a slight push at the right moment can grant access to a reservoir of unknown potential.
Wednesday - My first eBay sale shipment and Valentine's Day flower purchase and delivery.
I learned that selling items on eBay is only half the battle. The planning and strategy of item pricing, marketing, shipping, and fulfillment of should happen before the item is even listed. (At least that would be smart business).
And another thing on that day, I found myself remembering the importance of the little moments and that those small pieces of trivial knowledge collected over the years matter.
Thursday - My first t-shirt sold on btwnthepage.com and my first comic book sold at Carmine Street Comics. Both are the sweet, sweet pay off from the culmination of hard work and being at right place at the right time.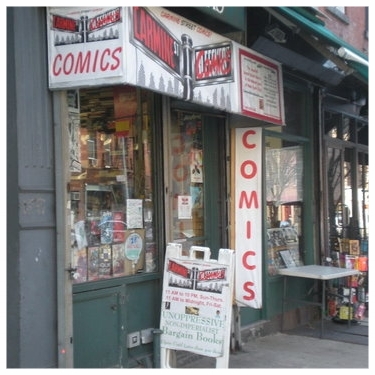 Friday – My first poetry reading with Inspired Words nycwas in front of a group of strangers, and I experienced the old adage "it's not as scary as you think." Watch below >
Saturday - My first blog post.
I wrote all this to say that I had a good week with many firsts. It had moments of stress and annoyances but in the grand scheme of things, I think I'm better off looking at the positives. Every week we do things, and things happen, but firsts only come around the one time, so take a moment and enjoy them and maybe share them. I'm glad I can share mine with you.